---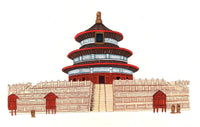 Temple of Heaven
Subject: Chinese Legendary Monument Painting

Paint Material: Opaque watercolors

Base Material: Paper (unframed)

Size: 12 in. wide X 9 in. tall (30.5 cms X 23 cms)

Age: Modern Handmade Art

Country of Origin: India

Free Shipping Worldwide & No hassle return
You will treasure this art of the famous & magnificent Temple of Heaven painted in glowing subtle colors.
The Temple of Heaven is an imperial complex of religious buildings situated in the southeastern part of central Beijing, China. The complex was visited by the Emperors of the Ming and Qing dynasties for annual ceremonies of prayer to Heaven for good harvest. The temple complex was constructed from 1406 to 1420 during the reign of the Yongle Emperor, who was also responsible for the construction of the Forbidden City in Beijing. Covering an area of 273 hectares, it is the largest architectural complex in the world for rituals to pay homage to heaven.
The details in this architectural painting of the Temple of Heaven are beautiful and painstakingly accomplished. It is bound to make an impressive addition to your art collection or for sprucing up the home. Buy it today.