---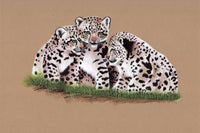 White Bengal Tigers Trio
Subject: Indian Nature Animal Painting

Paint Material: Opaque watercolors

Base Material: Paper (unframed)

Size: 10 in. wide and 8 in. tall (25.5 cms X 20 cms)

Age: Modern handmade art

Country of origin: India

Free Shipping Worldwide & Hassle free return
Express your love for one of nature's most unique and beautiful animals by adding to your collection this highly detailed and painstakingly hand-painted artwork. This realistic looking trio of rare white Bengal tiger cubs, in a natural surrounding, is sure to showcase your good taste in fine art.
The White Bengal tigers are distinctive due to the color of their fur. The white fur caused by a lack of the pigment pheomelanin, which is found in Bengal tigers with orange color fur. When compared to Bengal tigers, the white Bengal tigers tend to grow faster and heavier than the orange Bengal tiger. They also tend to be somewhat bigger at birth, and as fully grown adults. Currently, several hundred white tigers are in captivity worldwide, with about one hundred being found in India. Their unique white color fur has made them popular in entertainment showcasing exotic animals, and at zoos.
Every image of the white tigers is captured in stunning color and detail. A perfect addition to your wild life art collection.
Don't miss out on this exclusive Indian miniature wildlife Tiger artwork! Be the first to get it today before it is gone.