---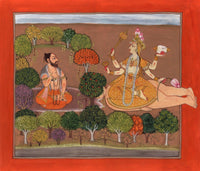 The Goddess Bhadrakali Worshipped by the Sage Chyavana
Subject: Yoga Miniature Art

Paint Material: Opaque Watercolors

Base Material: Paper (unframed)

Size: 13 in. wide and 11 in. tall (33 cms X 28 cms)

Age: Modern Handmade Art

Country of origin: India

Free Shipping Worldwide & No hassle return
Presenting for your personal collection a beautiful miniature Yoga art.
This rare painting invites wonder at India's extraordinary artistic heritage and with it you will feel the magic and spiritual enlightenment of Yoga. The art of Yoga constitutes a visual archive that attempts to capture one or several of its attributes, as a philosophical school, a Hindu tradition, a spiritual science and an exercise regimen.
Yoga meditation was a means to transcend the suffering of existence. This inspired South Asian artists to often represent great sages and deities in the act of meditation to convey their spiritual attainment. 
With pulsating intensity, the featured art titled Goddess Bhadrakali Worshiped by the Sage Chyavana, depicts the gentle form that the fierce goddess assumed in response to the meditation of the sage. The bearded Chyavana holds a strand of prayer beads that suggests he is reciting mantras (sacred syllables) as he gazes fixedly at the shimmering golden-skinned goddess.
Bhadrakali, her lotus-eye tinged in red, wears a crown adorned with emeralds and holds the attributes of the god Vishnu—lotus, conch shell, mace, and discus—in her four hennaed hands. She sits on a bloated corpse that invokes her cremation ground haunt.
In its totality the painting, with Tantric overtones, thus makes the goddess visible in three ways: to the practitioner who recites the verse while meditating upon her form; to the sage Chyavana (within the painting); and to those who view the image today.

Add this mesmerizing Meditation inspired modern yoga painting to your collection. Buy it now.