---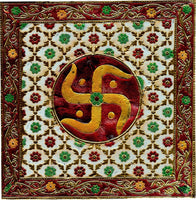 Floral Patterns & Hindu Symbol
Subject: Meenakari Art

Art Material: Glass Colors

Base Material: Aluminium sheet metal (unframed)

Size: 10 in. X 10 in. (25.5cms X 25.5 cms)

Age: Modern Handmade Art

Country of origin: India

Free Shipping Worldwide & No hassle return
You will delight in the richness and depth of this stunning Meenakari art from Jaipur, Rajasthan, India.
Meenakari is the art of coloring and ornamenting the surface of metals by laying over it brilliant colors that are decorated in an intricate design.
Mina (or meena) is the feminine form of Minoo in Persian, meaning heaven. Mina refers to the Azure color of heaven. The Iranian craftsmen of Sasanied era invented this art and Mughals spread it to India and other countries.
Initially, the work of Meenakari often went unnoticed as this art was traditionally used as a backing for the famous kundan or stone-studded jewelry. Today Meenakari is not just confined to traditional Jewelry but diversifies into more modern products including bowls, vases, spoons, figures of deities, and like in this artwork being showcased, wall pieces.
Intricate patterns are transferred from a metal die onto aluminium sheet metal by hand hammering. The thin metal sheet is then attached to a thicker base for support. The skilled Meenakars (craftsmen) then fill the engraved surface of the metal with bright glass colors, bringing out the lustrous effects of the intricate designs.
Let your walls be a reflection of your artistic tastes with this stunning meenkari painting hanging in a visible corner of your living room. Buy it today.