---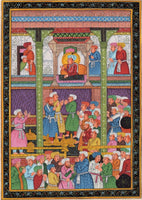 Wedding gifts of Dara Shikoh from Shah Jahan
Subject: Mughal Miniature Painting

Paint Material: Opaque watercolors

Base Material: Silk (unframed)

Size: 5.5 in. wide X 8 in. tall (14 cms X 20 cms)

Age: Modern handmade art

Country of origin: India

Free Shipping Worldwide & No hassle return
There's never been a collection as original and spellbinding as mughal miniatures. Adorned with legendary dresses/jewelry and flora/fauna, these masterpieces raise the bar on miniatures as an art form.
The dazzling artwork featured here is unique to the dynasty it honors, a celebration of the heritage, accomplishments and beauty that will give you a reason to be proud.
This artwork illustrates the presentation, in the Diwan-i ' Amm (Hall of Public Audiences) at Agra, of the elaborate wedding gifts given to Dara-Shikoh, the emperor Shah Jahan's eldest son and intended heir.
It is an illustration from the Padshahnama –  (Chronicle of the Emperor) which is a genre of works written as the official visual history of Mughal Emperor, Shah Jahan's reign. Today, the imperial illustrated manuscript of the Padshahnama is preserved in the Royal Library at Windsor Castle in UK.
It is a beautiful hand painted modern reproduction of an illustration by Balchand from the Padshahnama (Chronicle of Shah Jahan), circa 1635.
Here is a art treasure of exceptional scope and irresistible interest, destined to become one of your most cherished collectibles. It is an art unlike any other – just for you. Don't miss out on this exclusive Mughal artwork. Buy it today.