---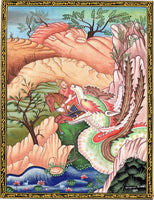 Shah Ardasir's Fate
Subject: Indo Persian Miniature Painting

Paint Material: Opaque Watercolors

Base Material: Cotton (unframed)

Size: 9 in. wide and 12 in. tall (23 cms X 30.5 cms)

Age: Modern Handmade Art

Country of origin: India

Free Shipping Worldwide & No hassle return
Presenting a rare and dazzling Persian miniature painting you will not find elsewhere. It is a handmade reproduction from the Darabnama.
The Darab-nama with its 155 miniatures can be assigned to Lahore, shortly after Akbar moved there in 1585. This painting shows Shah Ardashir, who, while riding in the mountains, was surprised from behind by a dragon and devoured in a gulp. When the news of his terrible fate spread, all the princes of the world went into deep mourning for three months. His son went off to Hindustan and never returned.
The Darab-Nama (Book of Daaraab) is a Persian prose romance, written by the 12th-century writer Abu Taher Muhammad, in which the adventures of the Kayanid Iranian King Darab are recounted.
Representing the highest level of Persian style art, the modern artist has executed the painting in minute delicacy with a superb attention to details.  
This is Persian style art at its finest. The handmade artwork has been brilliantly achieved with use of meticulous brushwork and fine watercolors.
Only one in stock so buy this Shah Ardashir artwork now before it is gone.