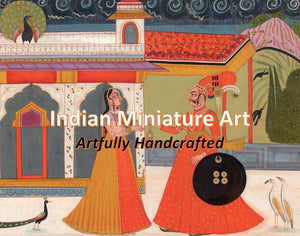 Welcome to ArtnIndia
Welcome To ArtnIndia where you will find an amazing selection of Indian Miniature Paintings at incredibly low prices.
Click 'Shop' on the menu bar to experience the rich heritage of Indian Miniature Art in numerous styles & subjects. Journey through Mughal, Persian, Rajasthani, Hindu and Islamic Paintings. Savour striking art depicting courts, harems, hunts, religious themes, birds, animals & portraits executed on illuminated manuscripts, paper, silk & eco-friendly synthetic laminate/faux ivory.
Quick & free shipping worldwide. No hassle returns. Secure payments with all major Credit Cards and PayPal.